Biography
After a bachelor's degree in business in Amsterdam, the Netherlands Helen started working for Randstad. She led several affiliates in Amsterdam and worked as a product manager. During this time she developed a strong sense for quality and a keen eye for detail. After a little more than 13 years she opted for photography. She started as an analogue fine arts photographer but later switched to digital photography. Since 2009 she dedicates herself entirely to Still Life photography.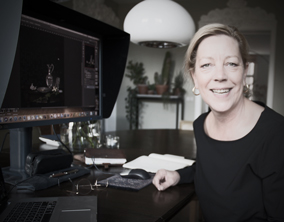 During the 16th and 17th century the popularity of Still Life painting reached its peak in Holland and Flanders. During the same time as tulpomania and the first big crash of the stock markets. In her work Helen likes to link the timelessness of the beauty of Still Lifes and the objects that predict (future) changes in our day tot day lives. Will anybody know in ten years time how obsessed we were with bitcoins? Will young people print out their stuff on 3d printers? Will we all drive electric cars and ask Alexa to bring the car?
In her first Still Life Helen depicted an iPod under a glass dome on an old textbook next to a tin plate. She made this work in 2009 when the iPod was relatively new. Today we listen to Spotify and nobody uses an iPod anymore. That is how fast things go.
HER WORK WAS EXHIBITED EARLIER:
2022 Participation Anna Singer Art
2022 Commission for a private collector
2021 Participation Anna Singer Art
2020 Participation Anna Singer Art
2020 Studiovisits instead of fairs
2020 Open Atelier with Jelle Rietveld
2019 Anna Singer Artotheek, Singer Museum Laren, the Netherlands.
2019 Exposition Art of Living by Marquiette, Blaricum, the Netherlands.
2018 Anna Singer Artotheek, Singer Museum Laren, the Netherlands
2017 Move studio to Amsterdam
2015 Affordable Art Fair, Brussels, Belgium
2015 Exposition Blarickhof, Blaricum, the Netherlands
2014 Exhibition gallery Artregeous, Miami, USA
2013 Affordable Art Fair, Brussels, Belgium
2013 REALISME Art Fair, Amsterdam, the Netherlands
2012 Affordable Art Fair, Hamburg, Germany
2012 fotofever, Brussels, Belgium
2012 Kunstrai, Amsterdam, the Netherlands
2012 ArtAntique, Eindhoven, the Netherlands
2012 REALISME Art Fair, Amsterdam, the Netherlands
2011 fotofever Photography Art, Paris, France
2011 ArtAntique, Utrecht, the Netherlands
2011 Art Salon, Eindhoven, the Netherlands
2011 REALISME Art Fair, Amsterdam, the Netherlands